When you're doing strength training at the gym, you might tend to spend the most time on your legs and arms, doing squats and bicep curls. But there's one important part of the body that gets easily overlooked: the back. Whether you're wearing a backless dress or a workout top, it's nice to know you've worked hard to make your lats and rhomboids look toned and strong. These exercises will help you shape your whole back — upper, middle, and lower. You can do these movements at the gym or at home, depending on what kind of equipment you have. And you might need a solid playlist as well.
Our back makes up a large portion of our body. So, whether you're wanting to rock that backless dress or the beach next summer, a strong toned back is a great way to do it
With back workouts for women, you will be well on your way to toned, strong back muscles, along with improved fitness and health. Effective back workouts are essential in any workout plan. And not just because having a strong, toned back looks great!
One of the greatest things—and most underappreciated—about bodybuilding-style training is how diverse you can be with your workouts. No workout need ever be the same! Day by day, you can change the grips you use, the machines or weights, and body positions as much as you'd like based on what feels right to you, and what allows you to concentrate on a working muscle. And when your body gets accustomed to one routine, there is always another one to challenge that lagging body part.
The back is composed of large muscle groups, and by increasing lean body mass you will be increasing your metabolic rate and be able to burn more calories on a daily basis. The back is made up of several large muscle groups, including the trapezius (traps), latissimus dorsi (lats), teres minor, and rhomboids.
But back workouts can pose a few special problems. For one, the sheer volume of variations can be overwhelming—so much so that you might find yourself sticking to the same routine because the choice is so intimidating. And while a beautiful, muscular upper back is admired by lifters and non-lifters alike, it can be hard to decide exactly what "look" you are trying to achieve.
It's not just guys who want wider backs. Ladies benefit from broadening their lats because they make the waist look smaller by comparison. Meanwhile, a more defined upper back also looks great in a halter top, razorback tank, or backless dress, and a strong lower back helps you pull off a keyhole dress or crop top. And those are just the aesthetic benefits. Stronger back muscles are a must for good posture and injury prevention. Since most people (both women and men) focus on muscles they can see in the mirror, it's the ones on the back side of the body that need the most attention, and must be built up for a balanced look.
The back exercises below target every muscle in your posterior chain, including the traps (upper back), rhomboids (shoulder blades), deltoids (front and back upper-arm and shoulder muscles), and the latissimus dorsi (the mid- to lower-back).
When you're doing back workouts, maintaining form is key: "You need to make sure that your back isn't rounded and always flat. Keep your head in a neutral position and engage your core as much as your back
Strengthen and Tone Your Back with These Back Workouts
T Raises
The T Raise is a great shoulder stabilization exercise that can be performed on an incline or flat bench, a swiss ball, or even while lying prone on the floor. By incorporating T Raises into your routine, you can up your shoulder game and gain strong healthy shoulders.
Grab a pair of light-weight dumbbells and stand with feet hip-width apart.
Take a slight bend in knees, shift hips back, and lower torso until it's parallel to the floor.
Bring weights together and turn palms to face forward.
Keeping arms straight, lift weights up to shoulder height then lower back down. (Make sure to keep core and glutes engaged the entire time.)
Reverse Fly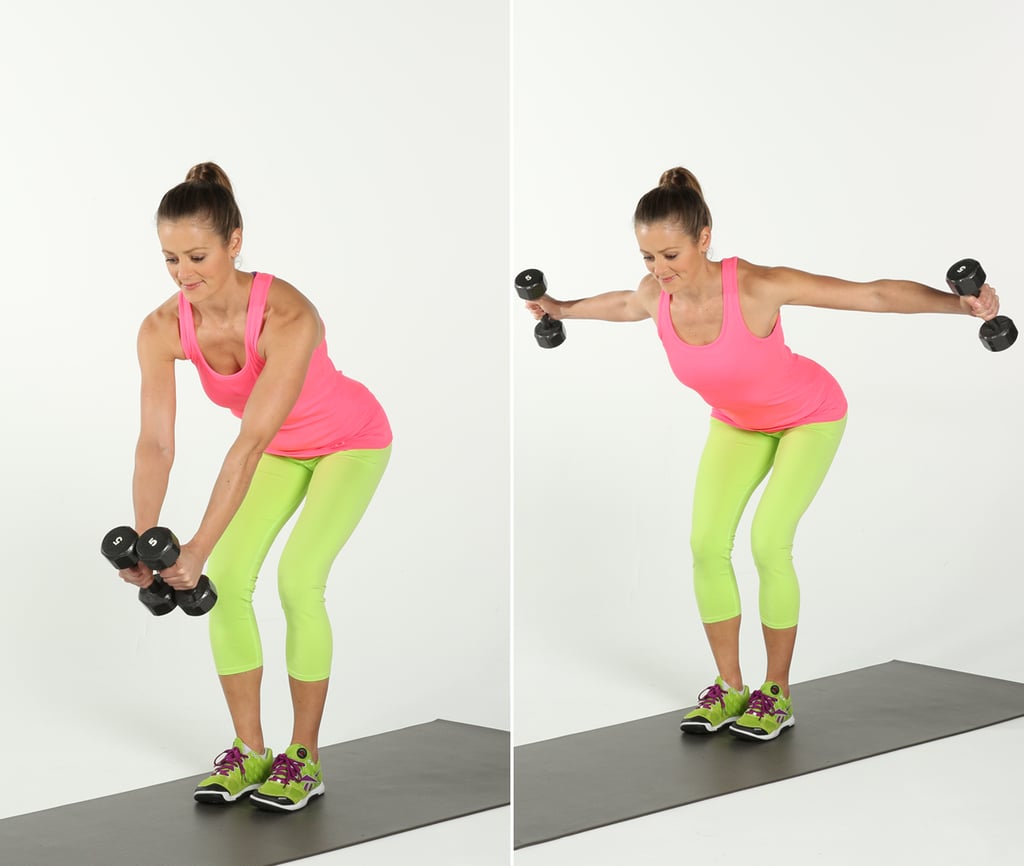 The reverse fly is an exercise you can do with dumbbells to target the muscles in the upper back. During a reverse fly, you work the rhomboid muscles in your upper back and shoulder region. Strong upper back muscles help balance your shoulder strength and help protect your shoulder from injury.
Hold a dumbbell in each hand, and stand with your feet hips-width distance apart. Keep a slight bend in your knees. Fold your torso forward so your back is almost parallel with the floor and your hands are under your shoulders. Draw your abs in to protect your lower back.
As you exhale, lift your arms out to the side so they are in line with your shoulders. Keep a slight bend in your elbows. To get the upper back working, think of sliding your shoulder blades together. As you inhale, slowly lower the dumbbells back to the starting position. This counts as one rep.
Complete three sets of 10 to 12 reps.
Resistance Band Pull Apart
Band pull-aparts are an isolation exercise designed to target muscle groups in your shoulders and upper back. Perform band pull-aparts by holding a resistance band with a shoulder-width grip. Keep your arms straight as you pull the resistance band laterally, extending both arms to either side.
Stand with your arms extended. Hold a resistance band taut in front of you with both hands so the band is parallel to the ground.
Keeping your arms straight, pull the band to your chest by moving your arms out to your sides. Initiate this movement from your mid back, squeezing your shoulder blades together and keeping your spine straight, then slowly return to start.
T Bar Row
he first benefit of using T-bar row is it makes you stronger and it brings you in a better shape. Your posture will improve as well as your coordination and balance too.
Moreover, it can develop the muscles in your bodies such as the shoulder, arms, back, core, and legs. Your bones will be protected and it will have some improvements. This will help you prevent injuries and prevent the risk of falling as you age.
Starting position
Stand over a t-bar with a wide stance and knees slightly bent.
Keeping your torso upright and back straight, bend down, grasp the handles with either a wide or a shoulder-width grip, and pull the bar off the floor a little. Your back should be straight and almost horizontal, and your arms should be almost fully extended.
Execution
Exhale as you pull the t-bar up to your abdomen.
Hold for a count of two.
Inhale as you return the t-bar to the starting position.
Repeat.
Superman
This exercise requires only your body weight and is a safe starting point for women who want to start strengthening their back. The Superman works your whole back, especially your lower back.
It is a perfect beginner exercise as is effective in helping you develop good firing mechanics and the static strength and control needed for more advanced movements. There are a few variations of this exercise, but in this article, we're going to look at the standard version.
Start by lying on your stomach, with all of your arms and legs on the floor.
Slowly extend your arms straight out in front of you and your legs behind you (while still keeping them flat on the floor).
Squeeze your core muscles to keep your torso stable, then lift your arms, upper chest, and legs a few inches off of the ground simultaneously.
Hold this position for a few moments before gently lowering your arms and legs back down. This completes one rep.
Repeat the movement 8-10 times to perform one set.
Band Face Pull
The banded face pull is a movement that targets a specific set of muscles, most of which are smaller in size and are assistance muscles to greater more voluminous muscle units (such as the shoulders and back). Below is a listing of some of the muscles targeted by the banded face pull.
Rear Deltoids
Rhomboids
External Rotators (Infraspinatus and Teres Minor)
Trapezius
Attach an elastic exercise band to a sturdy object at about chest height. Grasp the loop with both hands a few inches apart and stand back so that your arms extend in front of you and there's tension on the band.
Draw your shoulder blades back together and downward as you pull the band to neck level, flaring your elbows out to your sides. Pause for a moment and then extend your arms again.
Reverse Grip Back Row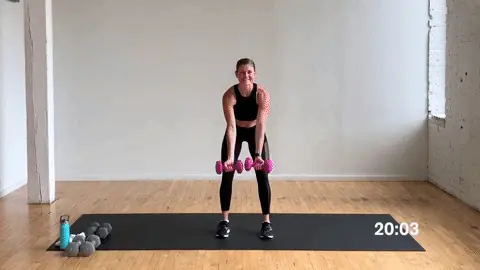 Both the lower back and upper back, specifically the lats and rhomboids. Additionally, this compound exercise also strengthens the biceps as they are also engaged in the 'pull' motion.
Select the appropriate dumbbells and place them on the floor in front of you.
Bending at the knees and keeping your back straight, squat down and pick up the dumbbells with an underhand grip (palms facing up).
Get into the starting position by keeping your back straight and bending at the knees. Let the dumbbells slide down your thighs until they're just below knee height.
Execute by pulling the dumbbells up under your chest as far as possible.
Pause, and then slowly lower the dumbbells back to the starting position.
Repeat for desired reps.
Upright Row
The upright row is a great movement to increase the muscular size and strength of the shoulders, specifically the anterior and lateral heads of the deltoid. This is key for lifters looking to gain size and strength in the deltoids for pressing movements or for general development. When performing this exercise, be sure to use semi-strict to strict form to make sure you are moving the load by elevating the shoulders at the top of the motion rather than using the biceps or forearms to support the movement.
How to: Start standing with feet hip-width apart, arms reaching toward floor, with hands holding weights against thighs and palms facing body. Pull elbows wide and up to slightly above shoulders, so hands reach chest height, then return to start. That's one rep. Do 15 to 20 reps then continue immediately on to your next move. (Remember: You're doing five total.) After you finish your last exercise, rest for up to two minutes, then start over from the top for a total of two or three rounds.
Swimmers
This back workouts looks deceptively easy, but if you're tightening your core and truly engaging your lats, deltoids, and traps, you'll feel a burn. The key here is to keep your chest and thighs lifted throughout the entire movement.
How to do: Lie face down on a yoga mat and extend your arms in front and legs behind you. Tightening your core and back, lift your right hand and left leg off the mat at the same time. Then, alternate sides by raising your left hand and lifting your right leg behind you. Move at a fast pace to get your heart rate up.
Good Mornings
The Good Morning is a hip hinge exercise, meaning the movement comes from hinging your hips, or bending at your waist. This puts it into the same category as a Deadlift and Squat. If you look closely, it's almost identical to a Romanian Deadlift except for the position of the bar.
The exercise primarily strengthens the muscles on the backside of your body, or what's referred to as your posterior chain. Your glutes (butt muscles) and hamstrings (backs of your thighs) drive the movement. These muscles are involved in the vast majority of sports skills, such as sprinting, jumping, throwing a ball and others, so strengthening them is essential.
How to do: Stand with your feet hip-distance apart and your hands resting behind your head. Hinge forward from the hips, lowering your torso until it becomes parallel to the floor. Pause for a second before bringing your torso back up to stand. This is one rep.
Bent-Over Row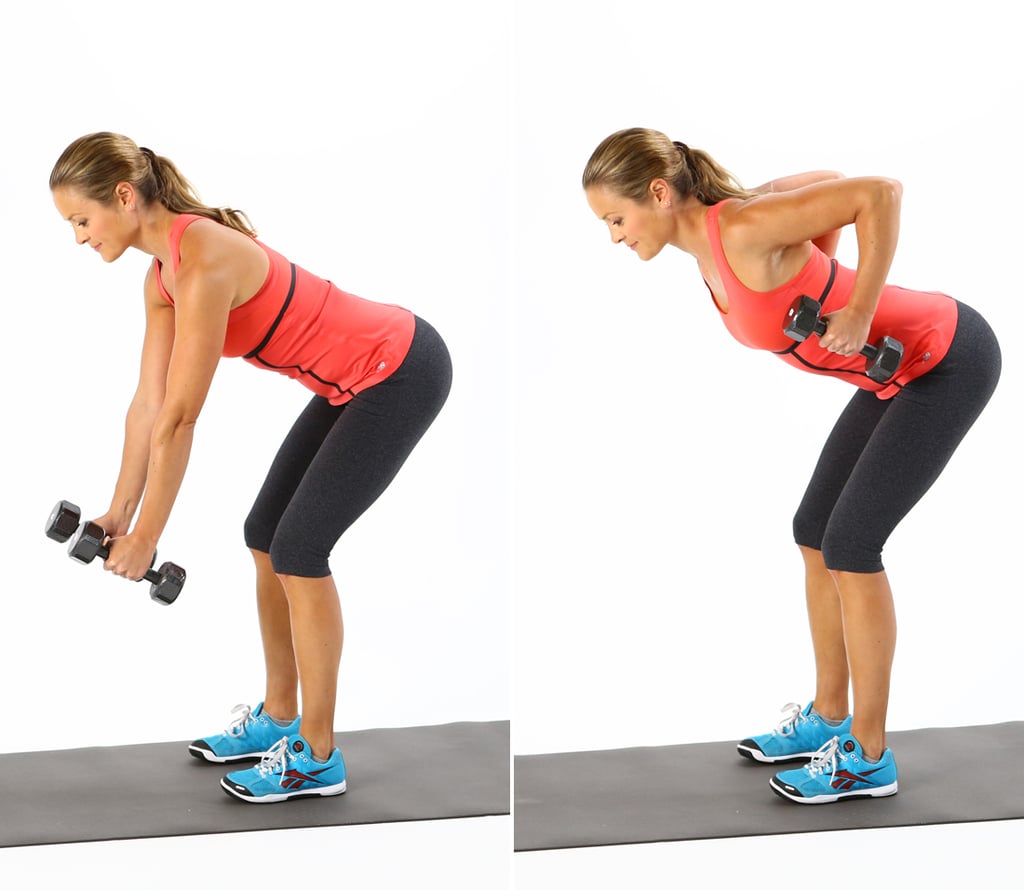 A king among mass and strength building exercises, the Bent Over Row is a must in your workout routine. We're going to break down and discuss everything you need to know so you can get the most out of this amazing movement.
The benefits are abundant while it's super fun to mix it up and use the many different variations possible with Bent Over Rows.
With a pair of dumbbells and your feet hip-width distance apart, bend at the waist. Keep your back parallel to the floor with a neutral spine — not rounded.
With a slight bend in your knees, hold your arms and the dumbbells extended out in front of you.
Engage your abs and squeeze your shoulder blades together as you bring the weights to your torso. Be sure to keep your elbows in and pointed upward.
Slowly lower the weights back to the starting position to complete one rep. Do three sets of 12 reps.
Single-Arm Dumbbell Row
The main muscle group worked during the single-arm row is the latissimus dorsi (lats). You also engage the entire back, shoulders, and arms (the trapezius, rhomboids, teres major and minor, deltoids, infraspinatus, biceps, brachialis, brachioradialis, and even pecs). By focusing on one arm at a time, you can better isolate the lats and lift the weight higher than during a classic barbell row. By placing your free hand on your thigh, or another stable surface, you are also able to lift more weight, but keep in mind that the goal of the one-arm row is to reach the maximum range of motion of the movement rather than simply lifting heavier weights.
Keeping your free hand supported on your thigh gives you just enough support to help stabilize your spine and upper body, and allows you to concentrate on slow, controlled movements.
Take one step back into a lunge position. Keep a soft bend in your front leg with the knee in line with your ankle and back leg straight. Lean slightly forward, and rest your free hand on your front thigh. Tighten your core by squeezing your belly button in towards your spine. This will give you a good base of support.
Lower the dumbbell toward the floor until you have a full extension at the elbow. Maintain proper posture through your shoulders, hips, and lower back. Avoid rounding or arching the lumbar spine.
Begin the upward motion of the dumbbell by first sliding your shoulder blade toward your spine and then lifting the weight up toward your torso by driving your elbow to the ceiling. Keep your elbow close to your body as it passes the ribs.
Squeeze your shoulder blade in toward the center of back (contracting the rhomboids). At the end of the movement, the dumbbell should be in line with your chest and your elbow should be pointing up toward the ceiling. Be sure to maintain good posture through your spine, shoulders, and hips.
Repeat for the appropriate number of repetitions.
Switch sides and repeat the same number of repetitions with the opposite arm.
Perform two to three sets of the exercise, with a one-minute rest between sets.
Wide Grip Lat Pull Down
For instance, using a wide-grip pulldown reduces the range of motion that occurs at the shoulder joint, but allows the back muscles to pull the arms down and keep the limbs directly out to the sides of the body. Another variation, the close-grip pulldown, uses a shoulder-width overhand grip.
Sit down facing the cable machine. Use the knee pads to lock in your legs and secure your knees directly above your ankles. You want to make sure your lower half is stabilized.
Extend your arms upwards to grab the bar at the widest grip position with your palms facing away from you. Your hands should be wider than shoulder width apart.
While slightly leaning back, brace your core, bring your shoulder blades down and back, and pull the bar down until it touches the top of your rib cage.
Pause briefly at the bottom, squeeze your lats, and slowly return to the starting position.
Maintain tightness in your core and repeat!
Suspension Row
The primary benefit of the Suspension Row is that it makes it easy to train the posterior chain (the back half) of the upper body without needing heavy, bulky fitness equipment or needing to be able to perform an unassisted pull-up. The TRX row hits all the major muscle groups of the back—the lats, rhomboids, and traps—as well as the shoulders and the core.
Suspension trainers are also lightweight, easy to transport, and easy to store, making it possible for you to hit these muscle groups in practically any environment—at home, at a park, on vacation—without much effort or hassle. It's also very easy to modify the row based on your body's position to make it easier or more difficult to perform
With the arms straight but shoulders retracted, create tension through the core to make sure the bodyline is straight.
Pull the body up, leading with the chest and keeping glutes tense.
Twist the hands and keep the elbows in towards the ribcage.
Slowly lower down back to the start position and go straight into the next rep.
Walk the feet in or out to change the difficulty of the movement.
Wide Back Row With Dumbbells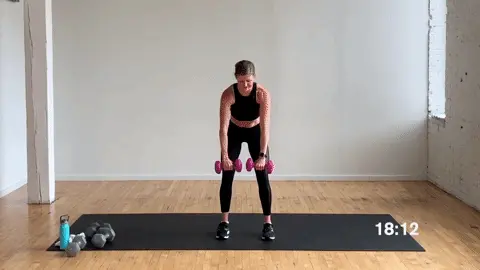 Stand with your feet slightly wider than shoulder width apart, knees slightly bent.
Grip a set of dumbbells using an overhand grip, palms facing towards the body.
Hinge forward at the hips untill your body is in a straight line.
Pull your elbows wide towards the ceiling, aiming for elbows line up with the bottom of your sports bra. Squeeze shoulder blades together.
Control the dumbbells back down to the starting position. Think up on 1 count, down slow and controlled on a 2 count.
Single-Arm Rear Delt Raise
How to: Grab a dumbbell in left hand and bend forward at hips, resting right hand on thigh for stability. Let the dumbbell hang straight down from shoulder, palm facing forward. Without moving torso, raise arm straight back until it's a few inches above your body. Pause, then slowly return to the starting position. That's one rep. Do 15 to 20 reps on each side, then continue immediately on to your next move. (Remember: You're doing five total.) After you finish your last exercise, rest for up to two minutes, then start over from the top for a total of two or three rounds.
Romanian Deadlift
The Romanian deadlift (RDL) is a traditional barbell lift used to develop the strength of the posterior chain muscles, including the erector spinae, gluteus maximus, hamstrings and adductors. When done correctly, the RDL is an effective exercise that helps strengthen both the core and the lower body with one move.
How to: Stand with your feet hip-distance apart with a slight bend in your knees. Hold a dumbbell in each hand with your palms facing the front of your thighs. Hinge forward at the hips, keeping your back flat, as you lower the weights toward your feet. Squeezing your glutes, bring your body back up to stand.
Seated Cable Row
The seated cable row is a pulling exercise that works the back muscles in general, particularly the latissimus dorsi. It also works the forearm muscles and the upper arm muscles, as the biceps and triceps are dynamic stabilizers for this exercise. Other stabilizing muscles that come into play are the hamstrings and gluteus maximus. This exercise is one done to develop strength rather than as an aerobic rowing exercise. Even though it's called a row, it is not the classic rowing action that you might use on the aerobic rowing machine. It is a functional exercise as many times during the day you pull items toward your chest. Learning to engage your abs and use your legs while keeping your back straight can help prevent strain and injury. This straight back form with abs engaged is one you also use in the squat and deadlift exercises.
Pull the handle and weight back toward the lower abdomen while trying not to use the momentum of the row too much by moving the torso backward with the arms.
Target the middle to upper back by keeping your back straight and squeezing your shoulder blades together as you row, chest out.
Return the handle forward under tension to full stretch, remembering to keep that back straight even though flexed at the hips. Repeat the exercise for the desired number of repetitions.
Renegade Row
The renegade row is a challenging movement that starts in the tall plank position, which immediately challenges deep intra-abdominal stability and control. The rowing movement entails an athlete to shift weight onto three limbs, creating a natural imbalance in loading that must be met with fluid movement and control. Additional weight can be used in the row to increase unilateral demands on the body, further stimulating core strength and bracing to withstand spinal and hip rotational forces.
Assume a push-up position with the dumbbells beneath your shoulders and your arms locked out. This stacked-joint position sets the stage for optimal results.
Keep your hips level, not with your pooper to the sky or your back arched.
Spread your feet a little wider than shoulder width. A wider base aids you in preventing rotation. As you progress, you can bring the feet closer, as long as you're able to prevent your hips and spine from rotating.
Perform a full push-up. Tuck your elbows to about 45 degrees, making a "V" shape with your torso and arms.
After the push-up, row one dumbbell towards your hip while pushing the non-working dumbbell and your toes into the ground. This will serve as a cue to keep your toes from coming off the floor and will help you stabilize and prevent rotation.
Row slow and prevent your hips from rotating. If you can't control rotation, you're using too much weight or going too fast.
Return the dumbbell to the floor, repeat on the opposite side. That's one complete rep.
Negative Pullup
Negative Pull-ups are a very effective progression exercise that focuses on the lowering part of a traditional pull-up. Think of negative pull-ups as a stepping stone to standard pull-ups, but instead of pulling yourself up, you are focusing on the downward section of a standard pull-up.
The way you carry out a negative pull-up is by beginning in the flex hang, and then you move onto a dead hand position. This might seem like an easier version of a standard pull-up, and it is, but you still gain benefits from performing this exercise.
You might be happy to hear that your starting position is above a pull-up bar. Hold onto the bar and your chin should be above the bar. This means you can stand on a structure in order to position yourself properly – If it is your first time doing this exercise, we recommend seeking the help of a partner.
If you are positioned on an object, remove your feet from it and then you slowly lower yourself. Control your body to increase the amount of resistance you feel while slowly lowering yourself.
Once you have lowered yourself you should be in a hanging position, known as a dead hang.
Your arms should be outstretched, while your feet will be positioned on a flat surface.
Repeat as you see fit.
Back Extension
Back extensions are done when you want to strengthen the lower back. They complement abdominal exercises by providing a reverse movement of the core muscles compared to crunches.
The back extension machine targets the erector spinae, which are three muscles: illiocostalis lumborum, longissimus thoracis, and the spinalis. This bundle of muscles lies in a groove along the vertebral column. These muscles extend your lumbar spine. Synergistic muscles used in the back extension are the gluteus maximus, hamstrings, and adductor magnus. Stabilizer muscles used include the back, shoulder and neck muscles: biceps, triceps, lats, deltoids, traps, pecs, and rhomboids.
Brace the abdominals while holding the arms folded and maintaining the body in a horizontal position. Make sure the ankles are well anchored.
Slowly bend at the waist until the upper body is at 90 degrees to the lower body. Avoid arching your low back and squeeze your glutei at the top.
Extend to the starting position and stretch upward just slightly so that the back is in hyperextension. Avoid arching your low back and squeeze your glutei at the top.
Try three sets of five repetitions—more or less depending on the condition and strength of your back and abdominal muscles.
Arnold Press
The Arnold press is a killer upper body move. It will tone and strengthen your deltoids (the triangular muscles on top of your shoulders). And because the Arnold press involves moving in multiple planes of motion, you'll get the benefit of targeting several areas of the muscles involved instead of just one
The Arnold press is a killer upper body move. It will tone and strengthen your deltoids (the triangular muscles on top of your shoulders). And because the Arnold press involves moving in multiple planes of motion, you'll get the benefit of targeting several areas of the muscles involved instead of just one
How to: Start standing with feet hip-width apart, holding a pair of dumbbells at shoulder height, with elbows bent and palms facing body. In one motion, bring elbows out wide to sides while rotating hands so palms face forward and pressing the dumbbells overhead until arms are straight and biceps are by ears. Pause, then reverse the movement to return to start. That's one rep. Do 15 to 20 reps then continue immediately on to your next move. (Remember: You're doing five total.) After you finish your last exercise, rest for up to two minutes, then start over from the top for a total of two or three rounds.